Facilitating projects
CHaPs identifies and facilitates collaborative planning opportunities that lead to co-location and shared facilities.
The program provides a platform for all levels of government and industry to collaborate at a place level.
The result is well-considered, planned and cost-effective infrastructure that connects communities and supports the integration and delivery of community services for the benefit of all Queenslanders.
Since CHaPs was established in November 2014, the team has:
facilitated complex projects that contribute to local economic growth and job creation
maximised infrastructure and service delivery opportunities throughout Queensland communities
saved tens of millions of dollars in capital investment costs.
Featured projects
Yarrabilba Family and Community Place
CHaPs led collaborative planning for a community hub co-located with the Yarrabilba State School. The $3.6 million community friendly Yarrabilba Family and Community Place opened its doors on the 8 October 2018 and is offering a range of services for Yarrabilba families, children and broader community members.
The team worked with multiple government agencies and stakeholders to deliver this integrated and responsive service hub.
Aura community hub
A joint commitment was facilitated by CHaPs between the Sunshine Coast Council, Department of Education and Training, and private sector developer Stockland, for a community hub in Aura, the emerging city neighbouring Caloundra on the Sunshine Coast.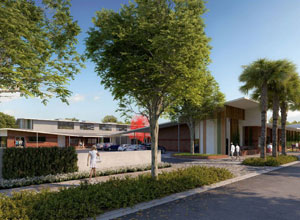 Artist's impression of Aura Community Hub
The first stage of the development opened in January 2018. When completed, the hub will provide a primary school including a multi-purpose hall, a council community centre, community accessible school music and science/technology spaces, a neighbourhood sports park including shared use field, and shared car parking.
CHaPs facilitated the co-design of the education, sporting and community facilities and secured a capital contribution from Stockland to deliver the facilities earlier for the emerging community.
To ensure all partners and the community will benefit from this hub well into the future CHaPs helped parties agree:
scope and operational requirements of the hub
land allocation, ensuring lot boundaries maximised the integration between the school, community and sporting facilities
funding commitments of each partner.
Last updated: Wednesday, Sep 11, 2019