Queen's Wharf Brisbane
Construction is well underway on the $3.6B Queen's Wharf Brisbane Integrated Resort Development. It's set to put Brisbane on the map as a global tourism, leisure and entertainment destination.
Project overview
In November 2015, the Queensland Government entered into a contract with Destination Brisbane Consortium to develop the $3.6 Queen's Wharf Brisbane Integrated Resort Development – a world-class tourism precinct in the heart of Brisbane.
This partnership will deliver economic growth for Queensland, creating thousands of jobs during construction and 8,000 jobs when the resort is fully operational.
Queen's Wharf Brisbane will elevate Brisbane as a tourism, leisure and entertainment destination ahead of the Brisbane 2032 Olympic and Paralympic Games.
Showcasing Brisbane to the world
The revitalised precinct will provide improved facilities for everyday use and public events to showcase Brisbane to locals and interstate and international visitors.
The Queen's Wharf Brisbane precinct marks where European settlement of Brisbane started over 190 years ago. The area will become a hub that connects parts of the city, including the Botanic Gardens, the Queen Street Mall, the Cultural Precinct, South Bank, the Parliamentary Precinct and the Brisbane River.
The redevelopment area is state-owned land located between the Brisbane River and George Street and between Alice and Queen streets. The area contains heritage buildings, former government buildings and neglected riverfront land under the Riverside Expressway.
Queen's Wharf Brisbane will:
become an internationally recognised precinct with world-class sustainable urban design and architecture that establishes a uniquely 'Brisbane' and 'Queensland' identity
redefine public access and transport connections throughout the CBD and surrounding areas
transform and activate places and spaces that draw people to the origin of Brisbane
promote social interaction and a broad range of urban activities from the city centre down to the river's edge and beyond
Benefits
Deliver $3.6 billion project to transform Brisbane

Support 10,000 jobs across multiple industries

Inject $11.01 billion to the Gross State Product*
World-class tourism benefits
Public space and public realm

more than the equivalent of 12 football fields of public space
new pedestrian bridge to South Bank
iconic 'Arc' building with Sky Deck.

Moonlight cinema
High-end retail precincts
Hotels and residential - four luxury hotels, two residential towers and one commercial tower
Heritage buildings and places - restoring and activating eleven heritage buildings and places
Dining - around 50 new restaurants, cafes and bars
World-class gaming facilities.
Frequently asked questions
Queen's Wharf Brisbane is a five to seven year demolition and construction project.

The Queensland Government along with Destination Brisbane Consortium will continue to engage and provide information to businesses and the community as the development progresses.

The developer's website has information on employment and ICN/Tender/Supplier opportunities.

To keep up to date, subscribe to the developer's construction updates and monthly newsletter by clicking "stay informed" on
the developer's websiteor follow the Queen's Wharf Brisbane Facebook page.

During QWB's construction phase (approximately 2017 to 2023) the Queensland Investment Corporation (QIC) believes that a large number of other professions will benefit from the project including the retail trade, education, health, community services, wholesale, tourism, hospitality and professional services (e.g. architectural, engineering, technical, legal, accounting, advertising, management and consulting).

No heritage building in the precinct is being demolished. All heritage buildings and places will be retained, revitalised and reactivated helping to bring the new precinct to life. Greater access will be established for the community to these wonderful spaces and will include a blend of historic and contemporary architecture.

When the Integrated Resort Development is operational, the heritage buildings and places will feature strongly within the development through their conversion into cultural, retail, dining, hotel entertainment and tourism spaces.

No, Brisbane's existing Treasury Casino will close and be replaced by a new-purpose built facility expected to open in the first half of 2023.
Timeline
2020
Completion of IRD basement to ground level
Construction of the Neville Bonner Bridge and IRD building structures commenced
2021
IRD building structures taking shape
Works on Heritage buildings commenced
2022
Completion of the Neville Bonner Bridge
2023
Expected staggered opening of the IRD including hotels, Heritage Buildings and Public Realm areas
Commence Treasury Precinct conversion
Completed milestones
2012
May: Announcement of the Government Precinct Redevelopment (now QWB)
2014
January: Registration of interest
March: Expression of interest
July to October: Request for detailed proposals
November to July 2015: Assessment and contract negotiation with the final two proponents
2015
July: DBC announced as the preferred proponent for QWB
November: Queensland Government and the DBC reach contractual close.
2016
Preliminary site investigation works.
2017
Vacant possession of the precinct granted for DBC to access the site, decommission and demolish non-heritage buildings.
2018
Basement excavation begins
Commencement of Waterline Park and Mangrove Walk.
2019
Waterline Park and Mangrove Walk completed and opened
Marine works and construction of The Landing along river edge commence
Excavation works completed and IRD basement works commence.
2020
IRD basement works completed
Podium construction and tower cores commence
Neville Bonner Bridge works commence.
2021
Public Realm Riverline works and Heritage Buildings' restoration commence
Successful closure of the Riverside Expressway for the installation of the Neville Bonner Bridge span
Further information
Community engagement
The Queensland Government has conducted extensive public consultation on Queen's Wharf Brisbane since May 2013. You can read about how we conducted the consultation and a history of our activities from 2013 to today.
Plan of development
Read about what a plan of development is, who is delivering the development and construction details.
Heritage and public spaces
How is the development planning to preserve, re-purpose and celebrate Brisbane's eleven heritage buildings and places located in the precinct.
Queen's Whaft Brisbane: Green Star Community
Delivery of a 6-Star Green Star Communities precinct.
Time-lapse video
Queen's Wharf Brisbane time lapse - August 2017 to January 2023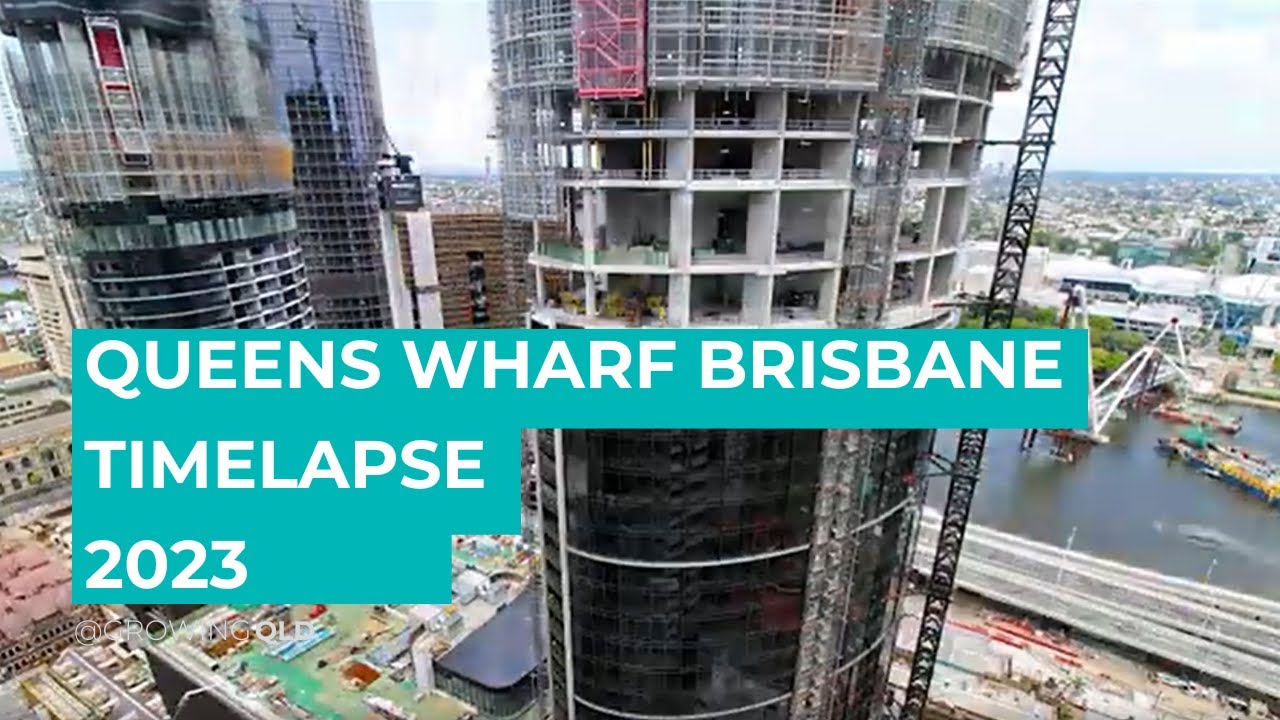 Youtube video link
Last updated: 24 May 2023