Strong and Sustainable Resource Communities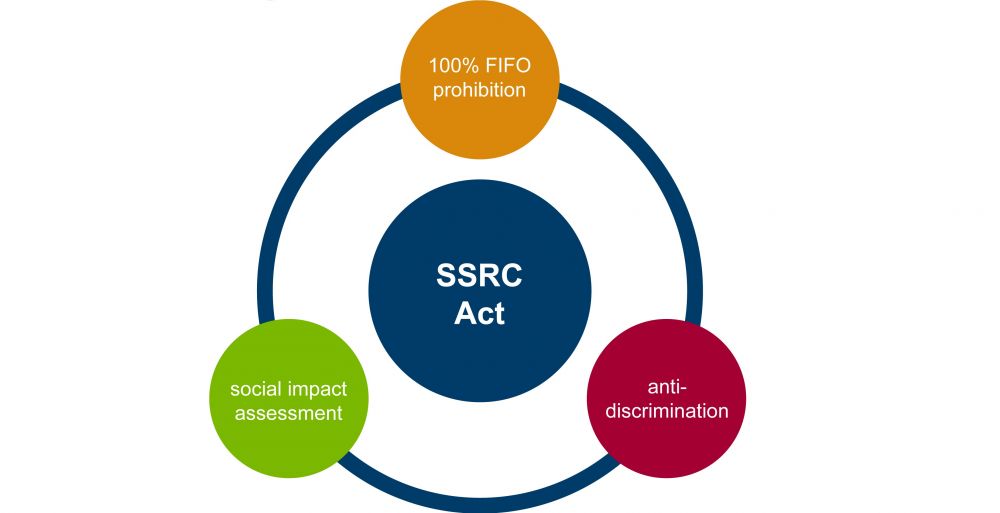 The Strong and Sustainable Resource Communities Act 2017 (SSRC Act) ensures that residents of communities near large resource projects benefit from the construction and operation of those projects.
Under the Act large resource projects are those resource projects for which an environmental impact statement is required, or that hold a site-specific environmental authority and have 100 or more workers.
A nearby regional community is one that is within 125-kilometre radius of a large resource project and has a population of more than 200 residents. View map.
For the legal definitions of large resource project and nearby regional community, please refer to the Strong and Sustainable Resource Communities Act 2017.
The Act is supported by a statutory Social Impact Assessment Guideline (2018).
Read more about the benefits for Queensland regional communities.
The Act's three key elements, which came into effect on 30 March 2018, are:
100% fly-in, fly-out (FIFO) prohibition
anti-discrimination
social impact assessment
100% FIFO prohibition

The SSRC Act prohibits the use of 100% fly-in, fly-out (FIFO) workforce arrangements on operational large resource projects that have a nearby regional community.

These projects and communities are detailed in a list of large resource projects published by the Coordinator-General.

Project owners have a six-month transition period to achieve compliance with the 100% FIFO prohibition following publication of their details on the list.

Read more about the obligations for large resource projects.

Anti-discrimination provisions

Anti-discrimination provisions in the Anti-Discrimination Act 1991 and the SSRC Act also apply to all projects and communities on the published list of large resource projects from the commencement of the SSRC Act.

These provisions make it an offence for large resource projects to discriminate against locals in the future recruitment of workers.

If a person feels they have been discriminated against during the recruitment or termination process because they are a resident of a nearby regional community, they can lodge a complaint with the Queensland Human Rights Commission.

Read more about the list of large resource projects.

Social impact assessment

Social impact assessment is now mandatory for environmental impact statements for large resource projects.

They must be prepared in accordance with a new social impact assessment guideline.

The SSRC Act ensures that the social impact assessment process is the same for all environmental impact statement processes under both the Environmental Protection Act 1994 and the State Development and Public Works Organisation Act 1971.

Read more about the Guideline for social impact assessment.

Recent resource activity in Queensland has included new mining ventures in the Bowen Basin coal region, North West minerals region, and investment in coal seam gas extraction in South West Queensland.

While the resource industry contributes significantly to the economy, many resource communities have expressed concerns that the increased use of non-residential FIFO workers by resource companies detrimentally effects their communities.

Review of FIFO practices

In March 2015, the Queensland Government commissioned a Parliamentary enquiry into FIFO and other long distance commuting work practices used by large resource projects across regional Queensland, to understand the economic and mental health impacts that FIFO practices have on regional resource communities, and the communities where FIFO workers live.

A FIFO review panel also ran in parallel and released a report about FIFO practices in October 2015.

Following the Parliamentary enquiry and FIFO review, the Queensland Government developed the Strong and Sustainable Resource Communities Bill 2016, in consultation with stakeholders.

The Bill became an Act on 31 August 2017 after being passed by Parliament and receiving Royal Assent.

Discretionary decisions

The Coordinator-General is able to include or exclude large resource projects or nearby regional communities subject to the SSRC Act, through discretionary decision powers.

Requests for discretionary decisions can be made to the Coordinator-General to amend the:

125-kilometre radius or minimum population for a 'nearby regional community'
size of the workforce for a 'large resource project'.

The list of large resource projects is updated when discretionary decisions are made or to reflect changes in project status.

The Queensland Government has completed a post-implementation review (the review) of the SSRC Act to examine its effectiveness. The final report on the review, including four recommendations, has been endorsed by Queensland Government. Read more about the final report on the review.
Find out more
Last updated: 09 Nov 2021