White Ribbon Workplace
The department is a White Ribbon Australia Accredited workplace.
The accreditation recognises our commitment to prevent violence, support for employees affected by domestic and family violence (DFV) and promote safe and respectful workplace cultures.
White Ribbon Australia Accreditation is part of our continuing journey to building a safe and supportive culture that demonstrates respect, gender equality, and a zero tolerance to violence.
DFV is a workplace issue that can affect the safety, wellbeing, attendance, productivity and performance of all employees (i.e. those experiencing violence, those using violence, carers and colleagues).
The Queensland Government is the state's largest employer, and the department's executive leadership team has shown its commitment towards ending DFV by signing a pledge to do all they can to eliminate DFV in Queensland.
Our DFV policy enables access to support for all employees, including contractors, agency temporary staff, work experience and industry placements, trainees and volunteers. We also provide training to our managers and employees and regularly participate in key awareness raising events.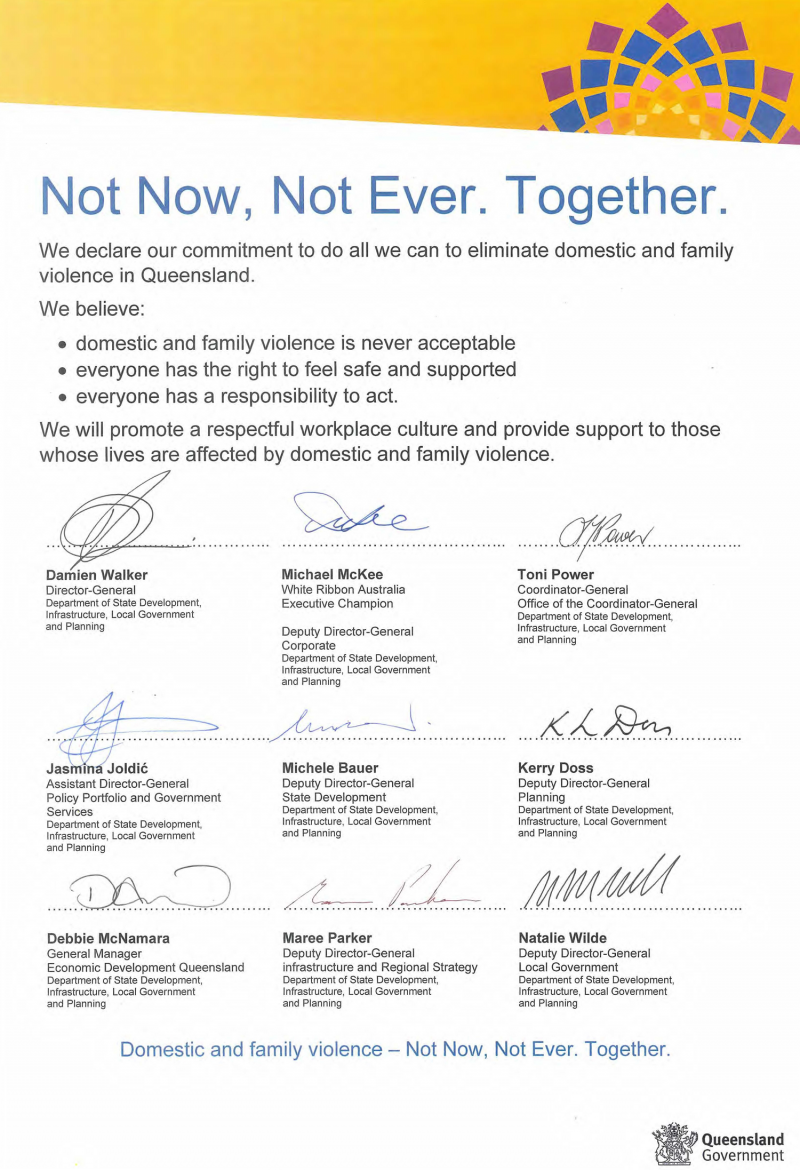 How to get help
In an emergency, call triple zero (000).
DVConnect Womensline (external site)
Phone: 1800 811 811
(24 hours, 7 days a week)
Womensline helps women to obtain safe refuge accommodation, confidential counselling and referral to other services.
DVConnect Mensline (external site)
Phone: 1800 600 636
(9 am to midnight, 7 days a week)
Mensline provides confidential counselling, information and referral to men affected by domestic and family violence.
Kids Helpline (external site)
Phone: 1800 55 1800
(24 hours, 7 days per week)
Lifeline (external site)
Phone: 13 11 14
(24-hour crisis counselling line)
Last updated: 09 Nov 2021