Queensland defence industries roadmap
With the 2016 Defence White Paper and a rapid technological change occurring in Australia's defence sector, our nation is seeing a once-in-a-lifetime surge in defence investment. The Queensland Government is committed to ensuring our state's defence industries can take maximum advantage of this opportunity and cement their place as Australia's next generation defence supplier.
The Queensland Defence Industries 10-Year Roadmap and Action Plan (

5.7 MB), part of the Advance Queensland initiative, is our plan to support growth in this sector. It builds on the momentum generated by the recent decisions to base large-scale and technologically advanced projects, such as LAND400 Phase 2 and the Defence Cooperative Research Centre for Trusted Autonomous Systems, here in our state.
Our vision under the Roadmap is to significantly increase defence revenue and generate 3500 new full-time jobs by 2028. This will be achieved through a range of actions across three strategies:
grow Queensland defence industry capability
significantly increase Queensland's defence industry contribution to the national and global market
promote Queensland's defence industry capabilities
Key actions include:
the creation of Defence Jobs Queensland to grow the state's defence industry and enable delivery of the key strategies and priority actions
establishing defence advisory boards of senior defence and industry personnel
committing $10 million to defence industry hubs in Ipswich and Townsville
establishing a Defence and Aerospace Industry Development Fund to help Queensland small-to-medium enterprises get the skills and accreditations needed to compete in the global marketplace
engaging with the Australian Defence Organisation and industry to attract major defence projects to Queensland.
Queensland defence industries at a glance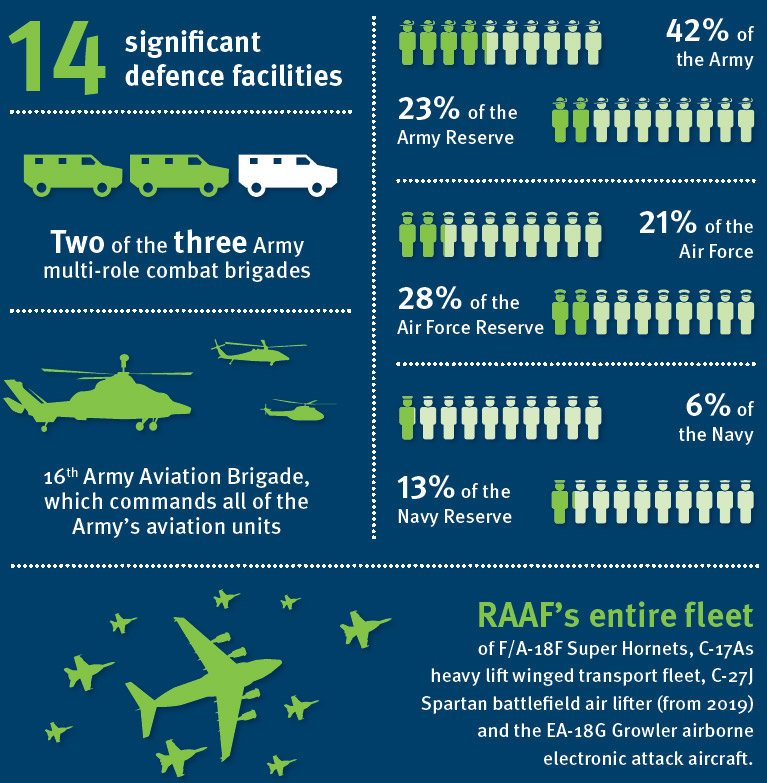 Employs more than 6500 people
Generated $6.3 billion in revenue in 2015-16
Secured $4.3 billion in Australian defence contract payments in 2016-17
World-class capabilities in:

aerospace support
ship repair and overhaul
heavy vehicle support and upgrades
command and control systems
reconnaissance and surveillance systems
unmanned vehicles
cyber security.
Last updated: 09 Nov 2021