The micro lots that are challenging the great Australian dream
The micro lots that are challenging the great Australian dream
The traditional free-standing home with a large backyard that may have suited the Queensland of yesteryear doesn't suit the dynamic Queenslanders of today and tomorrow, like Gold Coast residents Rob and Wendy Nutt.
Is microhousing the key to community connection?
When Rob and Wendy Nutt moved from country Queensland and set their sights on the Gold Coast, they didn't expect to call a micro urban community their new home.
"We were originally looking for somewhere near the light rail, but what we found was a whole community of people who were forced to interact with each other and the use wonderful public spaces, like the Broadwater Parklands, as our very own backyard." Wendy said.
The young family who have lived in various rural and remote places across Queensland purchased a 82 square meter urban pod, in the newly established Envi complex – an innovative development which saw one ordinary suburban lot turned into 10 freehold micro-lots.
The Southport development is the brainchild of Queensland architect, and Housing Supply Expert Panel member, Amy Degenhart. The pilot project could hold the key to bridging the gap between a growing population and land shortages while taking advantage of underutilised, existing blocks.
"There is a strong, and growing, appetite for this type of urban living, but there are few projects in Australia that deliver it and it is particularly rare on the Gold Coast," Ms Degenhart said.
"We want to showcase the fact that projects which are architecturally curated can offer more for less — you just need the right vision, community engagement, collaboration, clever design and passion to make it happen."
While micro living may not be for everyone, developments like Envi highlight the need for housing diversity in Queensland, allowing people to choose how and where they want to live based on their circumstances.
Housing choice means Queensland can cater to a growing population with changing needs, providing access to a variety of lifestyle options and existing infrastructure, amenities and services.
Intentional living
Since their surprise find in 2017, Rob, Wendy and their 1-year-old son Wylie have become part of a close-knit community who, due to the nature of the design of their townhouse, have welcomed daily interactions with neighbours and regular passersby.
"Its like we have that friendly country lifestyle but right in the heart of the Gold Coast," Wendy said.
"We do live in a small house but one of the many benefits is that our son knows all his neighbours, and even the regular dogs that walk by. It's wonderful."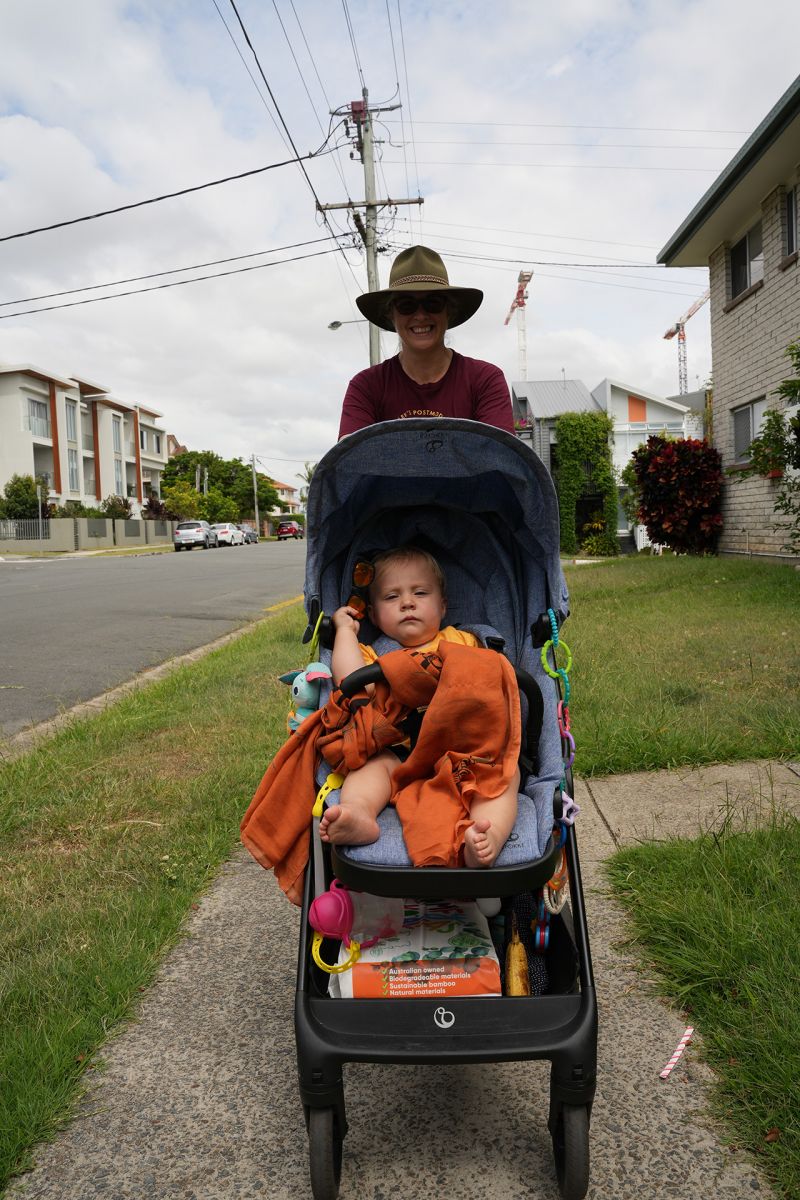 While some may say that living in a micro house with a young child may prove impossible, Rob says that a small space encourages creativity and sustainability. The young family says when it comes to space usability, time and cost is key.
"Kids will make a mess regardless of space, but the advantage of living in a smaller house is there's less to clean up. It also encourages you to think outside the box and really examine needs over wants and most importantly, the why behind it.' Rob said.
"It's no use paying for something that takes hours to maintain, like a big backyard, when it's not used much.
"I just ask myself, would I rather spend three hours mowing a lawn? That time could be spent hiking through Springbrook National Park or swimming down at the Broadwater Parklands or heading down to the local beach.
"You really have to ask yourself why you want the things you do, not just because it's expected. Challenge the status quo and really examine the need for it, and if it even suits your lifestyle.
"It's kind of like bucking the great Australian dream and challenging those notions of having a lot of space that often goes unused or is a chore to maintain.
"We've lived in a few different places across Queensland, and nothing beats feeling part of a community – to us that's what makes a house a home."
What is the role of microhousing in Queensland?
With Queensland's population growing and changing, micro-lots could provide a way to house more people in suitable homes.
"Micro-lot housing means you can be in the city and still have a house that's your own. Through the design, you are encouraged to go out an enjoy the public amenity," Amy said.
"In order to achieve something different, we have to do something different."
The South East Queensland Regional Plan, which was released in 2017 set a target of having 60 percent of all new development occurring within existing urban areas, this is a great example of that in action.
And according to Amy, microhousing could also provide better social outcomes.
"The most affordable way to procure a house in Australia is a house and land package but that requires presales. Those presales could come from social housing," she said.
"Social housing could be mixed in with the regular housing, exactly what society should be."
Could micro-lots open the door for first home buyers?
In the adjacent house, Max, recently purchased the property after relocating from Sydney.
Despite being the size of a standard garage, Max's new home and it's location means that car usage is kept to a minimum and he's able to access some of the most beautiful beaches in Queensland in his spare time.
"I'm a chef and I live on my own, so this style of home is perfect for me' he said.
Initially looking at investing in an apartment in Queensland, but not wanting to buy into a body corporate lot, the freehold home seemed like a perfect choice for the first time homebuyer.
"Southport is a bit of a hub, and we are close to everything here so we're pretty lucky in that sense, home for me is just a place where I can be with my cats, read and a place to come to after work and relax" he said.
When Envi launched, 70 percent of the buyers were first home buyers.
"We were told you will never sell to first home buyers. We wanted at least four and we ended up with seven so 70 percent takeup in any development project of first home buyers is quite remarkable," Amy said.
Last updated: 06 Mar 2023