Making South East Queensland better, not just bigger: SEQ City Deal
Making South East Queensland better, not just bigger: SEQ City Deal
With an enviable lifestyle, readily accessible services and a strong, diverse economy it's not hard to see why South East Queensland is the fastest growing region in Australia. When the world came to a halt in 2020, people living in other parts of Australia started moving to South East Queensland, in search of a better lifestyle, with one in seven Australians already calling this corner of the state home.
A growing region will lead to exciting opportunities but if we want South East Queensland to grow better with time and not just get bigger, we need to plan for the future. What will our cities and towns look like as they grow? Where and how will people live? How will people get around, where will they go and how will they spend their leisure time? What jobs will be available, and how do we make sure they're sustainable? The SEQ City Deal is a commitment from all levels of government to look at what investments will be needed in the region now and in the future to ensure South East Queensland is a great place to live and work.
What and where is South East Queensland?
South East Queensland is the region of Queensland that sits along the southeast coast of the state and includes the major population centres of Ipswich, Brisbane, Logan, Moreton Bay, the Redlands, the Gold Coast and the Sunshine Coast. It's home to more than 3.8 million people, as well as 6,000 species of plants and 2,400 native animal species.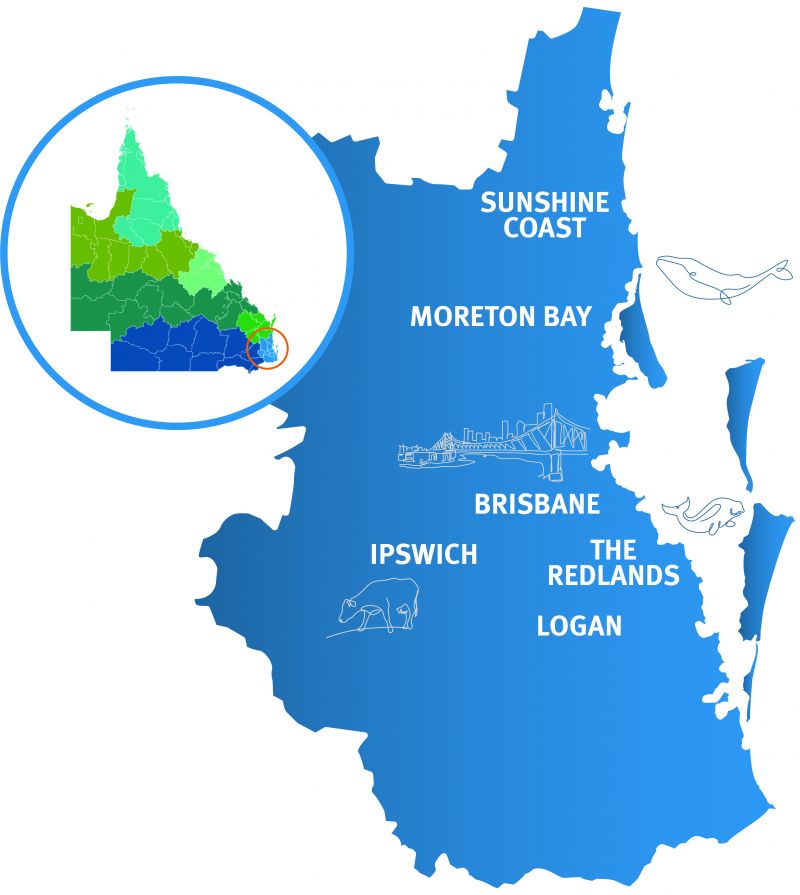 Not in SEQ? You can read about City Deals for other areas of the country, like Townsville, on the Federal Government's City Deals website.
What is the SEQ City Deal?
The SEQ City Deal is a joint investment commitment between the Australian Government, the Queensland Government and the Council of Mayors from South East Queensland. This means all levels of government are working together to plan their projects and investments in the region, with the same goals in mind.
The deal focuses on achieving four overarching outcomes: accelerating future jobs, building a faster and more connected region, creating a more liveable region, and creating thriving communities. Each outcome will directly impact the people who live in South East Queensland and help shape the region for decades to come.
Why is it important to invest in South East Queensland?
We're expecting an extra 1.5 million people to be living in SEQ by 2041. Planning for the future now will improve the lives of people who currently live in the region and make sure we're ready for the long-term impacts of a growing population.
The projects that will be part of SEQ City Deal will touch many facets of life in South East Queensland. From upgrading highway safety features, to building new public transport options, funding public art initiatives and modernising the way we recycle, each project has been planned to bring more value, ease and enjoyment to the lives of South East Queenslanders.
You can read more about the planned actions and outcomes of the SEQ City Deal.
Why does this deal matter to you?
When you're going about your day, it's easy to not give much thought to the planning and infrastructure that make your lifestyle and routines possible. In fact, good planning should mean you don't have to. But everything from being able to walk your kids to school, to accessing services within your neighbourhood, getting to work (or working from home) and spending some weekend time in the great outdoors relies on past planning, investment decisions and projects like the ones laid out in SEQ City Deal.
When our governments invest in South East Queensland, they're investing in you and your ability to live a good life in the region. The future is bright for South East Queensland as a region and as a community, and ongoing planning and investment through projects like SEQ City Deal will make sure it stays that way.
Last updated: 06 Jun 2023