Aerospace
Queensland aerospace roadmap
The Queensland Aerospace 10-Year Roadmap and Action Plan (

7.3 MB), part of the Advance Queensland initiative, is the Queensland Government's plan to capitalise on the opportunities available to Queensland aerospace businesses. It will accelerate the pace of growth in both the civilian and defence aerospace sectors, and help them to create the high paid, sustainable jobs of the future.
Queensland aerospace
The Queensland Government is committed to supporting the state's rapidly developing and innovative aerospace industry.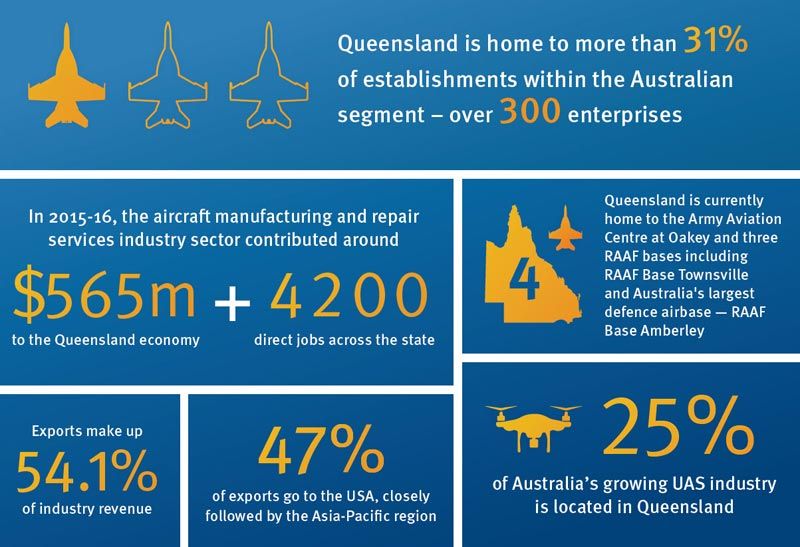 Aerospace is the technology and support systems that enable flight of all civil and military aircraft – aeroplanes, helicopters and remotely piloted aircraft. It includes the design, development, manufacture, modification, testing, operation and maintenance of flight vehicles and their on-board and ground systems.
Queensland is well-known as an aviation hub of the Asia-Pacific region, attracting a number of global leaders in the civil and defence aviation area. Queensland's existing strength in this complementary industry sector gives the state a distinct advantage for further development in the aerospace field.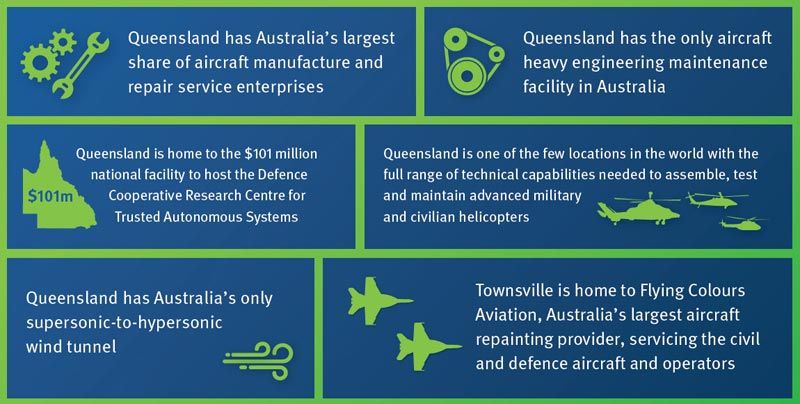 Advance Queensland
The Advance Queensland program aims to build on our competitive strengths, diversify our economy and create the knowledge-based jobs of the future. Advance Queensland is driving innovation-led economic growth through increased collaboration between government, industry and research organisations.
Aerospace is an industry that has global growth potential and there is an opportunity for it to be a major contributor to jobs and the economy.
Further information
View further information about the priority industry roadmaps or contact us at DJQ@dsdmip.qld.gov.au or on 07 3452 7218.
Last updated: 09 Nov 2021