Queensland Government infrastructure governance
Investing in the right infrastructure at the right time underpins economic growth and social outcomes, supports jobs and creates long-term prosperity for all Queenslanders.
Our infrastructure program is driven by strategic objectives supported by frameworks that guide the development of major projects across the infrastructure lifecycle. This ensures infrastructure supports our recovery, builds resilience, and advances the long-term objectives of the government and its Economic Recovery Plan.
The infrastructure lifecycle has four phases:
Planning: identifying future service needs based on clearly defined problems and/or opportunities
Assessment: developing and analysing options, including through to an investment decision at the conclusion of this stage
Delivery: procuring and constructing solutions
Operation: operating and maintaining the infrastructure through its in-service life and withdrawing from service or managing transition to replacement.
The Queensland Government has frameworks, policies and guidelines to assist in the development, assessment and delivery of projects. The Project Assessment Framework (PAF) is used across government to ensure a common, rigorous approach. It provides tools and techniques to assess projects throughout their lifecycle, from the strategic assessment of service requirements to delivery and benefits realisation.
Below is the Queensland Government Infrastructure Governance overview: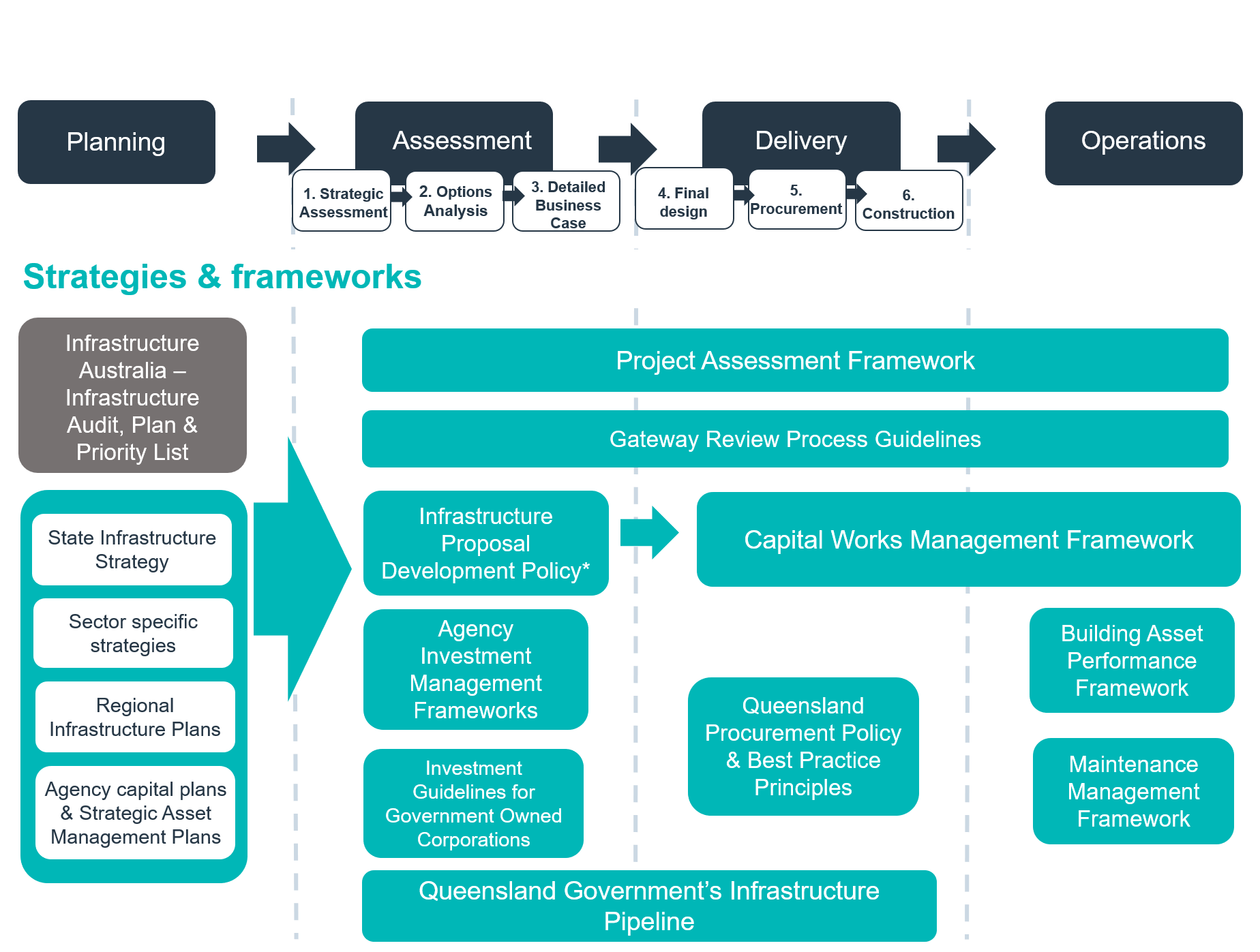 *The Infrastructure Proposal Development Policy outlines the Queensland Government's approach to the assessment and assurance of infrastructure proposals, through application of the Business Case Development Framework and Assurance Framework during infrastructure assessment phases.
Overview of the Infrastructure Proposal Development Policy
The Infrastructure Proposal Development Policy (PDF, 1MB) sets out the arrangements for planning and assessing major infrastructure in Queensland.
The Queensland Government is committed to consistent and rigorous infrastructure assessment that gives confidence to community, industry and government on investment decision-making. A whole-of-government, rather than an agency only, view of proposals in the early stages of development enables a more coordinated approach to decision-making across government.
The planning and assessment governance arrangements set out in the Infrastructure Proposal Development Policy reflect this commitment and support the Queensland Government to:
plan infrastructure that achieves whole-of-government priorities and coordination across infrastructure sectors (e.g. education, health, justice, transport, utilities)
assess proposals based on consistent, high-quality, transparent and robust analysis
confidently make investment decisions and prioritise infrastructure investments based on a consistent approach to proposal development
invest in the right infrastructure at the right time to underpin economic growth and social outcomes, supporting jobs and creating long-term prosperity for all Queenslanders.
Under these arrangements, agencies take the lead role in developing major infrastructure proposals, applying the best-practice Business Case Development Framework (BCDF) — a consistent set of guidance materials, templates and techniques.
The BCDF will be applied to major infrastructure proposals where a significant Queensland Government funding contribution may be required, including:
proposals with an estimated capital cost of $100 million or more, which are not a commercial investment opportunity funded by a government-owned business or fully funded through user charges
road transport proposals with an estimated capital cost of $500 million or more (and toll road proposals with an estimated capital cost of $100 million or more).
Agencies are also encouraged to apply the BCDF for infrastructure proposals with an estimated capital cost of more than $50 million but less than $100 million.
The Department of State Development, Infrastructure, Local Government and Planning (DSDILGP) performs a central role in infrastructure planning and assessment. DSDILGP will support agencies with expert scalable advice and assurance support, particularly during early stages of assessment before proposals are committed or announced.
The department will also work more broadly with agencies to improve their proposal capabilities. In exceptional circumstances, where risk and benefit warrants it, DSDILGP may be directed by the Minister to lead proposal development.
Major proposals will be prepared in accordance with an assurance plan and will be subject to independent third-party assurance, with expert advice continuing to inform decision-making. This is consistent with Infrastructure Australia's Infrastructure Decision-making principles which say 'project proposals should be independently assessed by an appropriate third-party organisation, through structured and transparent review processes'.
DSDILGP, in conjunction with other central agencies including the Department of the Premier and Cabinet and Queensland Treasury, and relevant Queensland Government Cabinet committees will have a governing role in advising on and overseeing infrastructure proposal development. This will ensure that proposals are rigorously scrutinised and assessed, reflect the government's priorities, and align with its timeframes for delivery, budget and project outcomes.
The Infrastructure Proposal Development Policy (PDF, 1MB) sets out the full arrangements.
If you have any questions, email InfrastructurePlanning&Advisory@dsdilgp.qld.gov.au
Last updated: 01 Dec 2021