Townsville Eastern Access Rail Corridor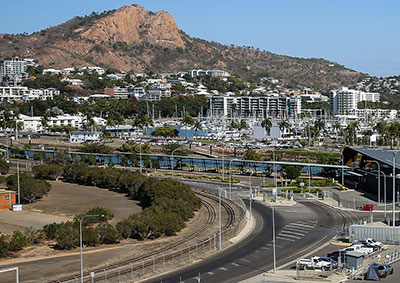 Building Queensland completed the detailed business case for the Townsville Eastern Access Rail Corridor (TEARC) in late 2017.
Developed in partnership with the Department of Transport and Main Roads, the detailed business case investigated the viability of a new 8.3-kilometre freight rail link connecting the Mount Isa Line to the North Coast line, through the Townsville State Development Area, to the Port of Townsville.
A key focus of the analysis was estimating future demand and freight capacity along the whole supply chain. Building Queensland's business case concluded that the costs of proceeding with the new line at this time would significantly outweigh the benefits of reduced road delays and a marginal increase in rail efficiency. The project capital cost estimate is $391.7 million (nominal P90) and $457.7 million whole-of-life (nominal P90).
The preservation and development of the rail corridor and associated investment in other parts of the supply chain were referred to the Queensland Government for further consideration.
In April 2018, the Queensland Government announced it accepted Building Queensland's advice and is undertaking actions to preserve the corridor—a move that will significantly reduce the future financial costs of delivering the project when it is needed.
View the TEARC Detailed Business Case in full.
A summary of the cost benefit analysis, as detailed in Chapter 7 – Economic analysis, is available here.
Last updated: 09 Nov 2021