Construction
Time-lapse video
Queen's Wharf Brisbane time lapse - August 2017 to May 2022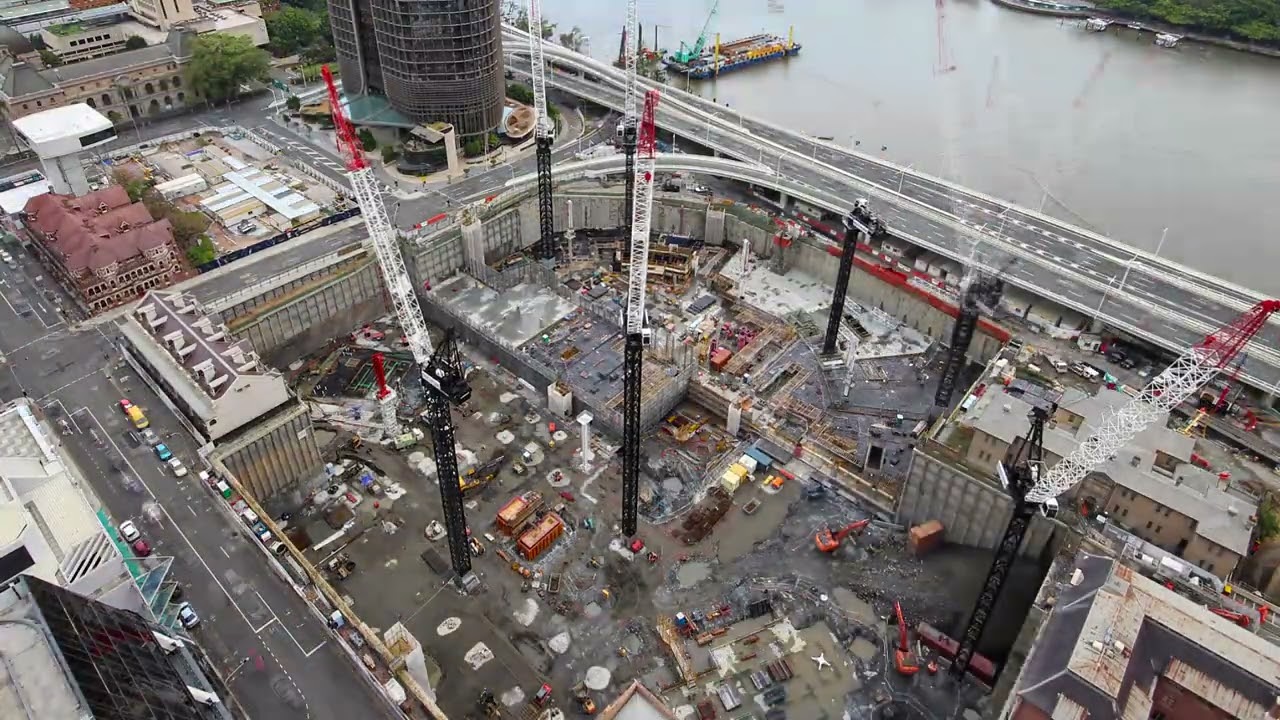 Youtube video link
Frequently asked questions
The Destination Brisbane Consortium commenced early construction works onsite in January 2017 in accordance with a development permit granted by Economic Development Queensland on 19 December 2016 (EDQ reference: DEV2016/816).

The Integrated Resort Development is anticipated to open in the first half of 2023 including hotels and all public realm areas. When it opens, Brisbane's existing Treasury Casino will be replaced with a new facility at the new Queen's Wharf Brisbane development.

The conversion of the Treasury Precinct will commence in 2023. The opening of the repurposed Precinct is anticipated for 2024.

All buildings within the precinct will comply with planning requirements and the Civil Aviation Safety Authority's height restrictions for the Brisbane CBD which is approximately 274 metres.

On Friday 12 August 2016 the Department of Aboriginal and Torres Strait Islander Partnerships (DATSIP) hosted a cultural closure event of the Neville Bonner Building. At the cultural closure event, attended by Senator Neville Bonner's son Alfred 'Tiny' Bonner, other Bonner family members and representatives of the Indigenous community, the then Minister for State Development Dr Anthony Lynham MP announced the naming of The Neville Bonner Bridge.

The Neville Bonner Bridge is a pedestrian bridge linking both sides of the Brisbane River forming a greater connection between the popular South Bank and Cultural Arts precinct to Queen's Wharf Brisbane.

The Queensland Government also moved artwork that was located in the Neville Bonner Building to 1 William Street and the Queensland Performing Arts Centre. The Neville Bonner 'bust'—a larger-than-life bronze sculpture—is now on display at Queensland's Parliament House until it's relocated to the Queen's Wharf Brisbane precinct when construction activities are completed.
Last updated: 17 Aug 2022