Aerospace
Our goal is to help the Queensland aerospace industry to be recognised as a leading centre in Australia and South East Asia for aerospace innovation by 2028.
Recent achievements
45 businesses from Queensland's defence, aerospace and space industries shared in more than $515,000 to achieve internationally recognised industry certifications through round two of the Defence and Aerospace Industry Development Fund
In 2021-22 hosted 5 defence/aerospace capability workshops with 140 participants, and 13 supply-chain events across 10 Queensland locations with 1692 participants (including online)
5 major events promoted Queensland aerospace capability: RotorTech 2021 and 2022, MRO Asia Pacific 2022 in Singapore, and the World of Drones and Robotics Congress 2021 and 2022.
Released the Queensland Defence, Maritime, Aerospace and Space Industry Skills Plan and refreshed the Aerospace Roadmap April 2022.
Queensland aerospace roadmap
The Queensland Aerospace 10-Year Roadmap and Action Plan (

12.4 MB), identifies new opportunities and solutions to continue to accelerate growth in both the civilian and defence aerospace sectors and to create sustainable jobs well in the future.
The Queensland Government has a long term vision to capitalise on opportunities to help support aerospace businesses and position the state as an aerospace hub within the Indo-Pacific region.
This vision includes our $3.34 billion Queensland Jobs Fund which will help to drive growth and jobs creation within the aerospace sectors.
The Fund is a one stop shop for investors who can easily access a suite of flagship industry development programs specifically designed to help them grow and prosper. The suite includes the $350 million Industry Partnership Program which is focussed on creating jobs across a number of priority industry sectors including aerospace.
Queensland aerospace
The Queensland Government is committed to supporting the state's rapidly developing and innovative aerospace industry.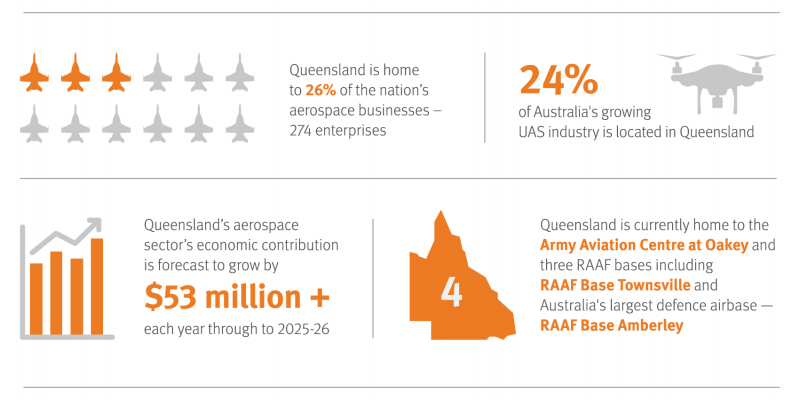 Aerospace is the technology and support systems that enable flight of all civil and military aircraft – aeroplanes, helicopters and uncrewed aerial systems. It includes the design, development, manufacture, modification, testing, operation and maintenance of flight vehicles and their on-board and ground systems.
Queensland is already well-known as an aviation hub of the Indo-Pacific region, attracting a number of global leaders in the civil and defence aviation area. Queensland's existing strength in aviation gives the state a distinct advantage for further development in the aerospace sector.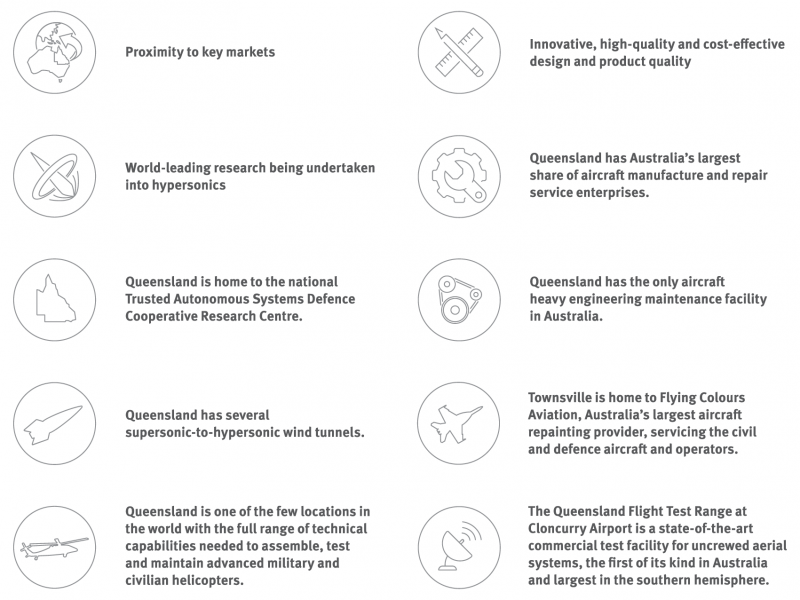 View further information about the priority industry roadmapsor contact Defence Jobs Queensland by email: djq@dsdilgp.qld.gov.au or telephone: +61 7 3452 7100 or 13 QGOV (13 74 68).
Last updated: 28 Feb 2023