So you want to be a councillor?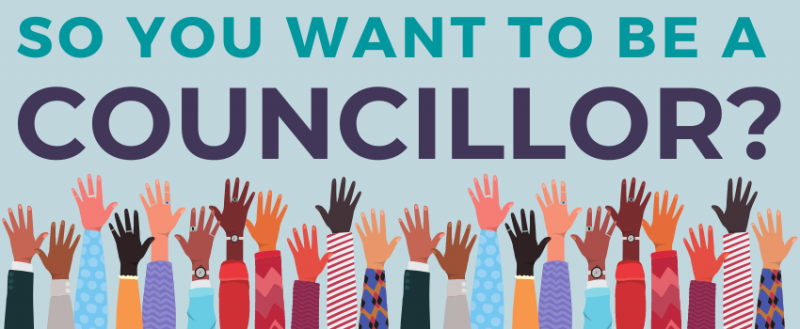 Local government elections are held every four years and on the same date for all 77 councils across Queensland.
By-elections can also be held to fill councillor vacancies that occur between elections.
By becoming a councillor, or even just running for election, you can make a positive difference to your local community. Queensland's councils need councillors and mayors that reflect the diversity of our communities.
Sign up and access the So you want to be a councillor training here.
Listen to our podcasts
Gain genuine insight into local government political life and the opportunities to represent your community, as we chat with councillors, mayors, and council executives from across Queensland, Australia.

We share a handful of experiences from those who represent our regions, including first nations people, female leaders, those with agricultural backgrounds or with careers in governance. Our host, Rob Hazel, uncovers what the roles within our state's 77 councils entail, the qualifications required, and the positive impacts of engaging with your local community.

Queensland is seeking candidates of all genders, ages, backgrounds, abilities and experiences who can actively represent the interests and issues within our diverse communities.
Discover how local government works, election campaign requirements, and to access online training modules, candidate fact sheets and resources. Embark on your local government journey now, so that you're ready for by-election opportunities and prepared for Queensland's next local government election in March, 2024.

Please share a rating review on your favourite podcast app, to help spread the word among future candidates.
Unexpected Mayor
A natural disaster led Rachel Chambers to fall in love with the North Burnett community and subsequently decide to take on a leadership role, despite being new to the region. A self-confessed 'annoying constituent', Rachel put up her hand for Mayor despite having no prior experience as a councillor, to the surprise of some in her electorate, because she knew she could make a difference. In a state where only 36.5% of elected representatives are female, discover Rachel's journey from mud army to majority votes in local government.
The Community's CEO
Back at university, Brett de Chastel would have laughed if anyone predicted he would spend his entire career in government! Now, the self-proclaimed 'local government tragic' is struggling to retire, as he continues to mentor indigenous councils. Throughout his tenure as Noosa Council CEO, a job he describes as 'the best in Australia,' Brett worked with close to 100 councillors and has discovered the key characteristic is being passionate about community. Join us as the former CEO reveals how councils representing today's community, are also representing the future.
Chair of Cyclones
Former Mayor of the Cassowary Coast, Bill Shannon, found there was a greater array of opportunities to contribute to community, in a regional area, as opposed to the city. The multi-committee member facilitated cyclone management, which gained international recognition for best practice! With a background spanning both economics and agriculture, Bill urges people with diverse experience to engage in local government; 'what really matters is your connection to the community.'
Grandmother of an Island Home
Deniece Geia has been advocating for her community for almost two decades both as an elected Councillor and a Palm Island Aboriginal Shire Council executive. She believes self-care is essential for balancing public life, with her role as a grandmother to 16 children! In a state where less than 13% of councillors identify as First Nations people; Deniece engages with elders, mothers and young people in meaningful ways, such as yarning circles. She encourages females to enter politics, 'because women have the strength.'
Sign up for updates
Last updated: 18 Nov 2022