Development projects
Economic Development Queensland (EDQ) is the Queensland Government's land use planning and property development agency. We embrace partnerships across government, industry and the community to deliver new residential communities, urban precincts and industrial ecosystems.
Backed by the Economic Development Act 2012, EDQ has unique planning and approval powers and a mandate to create private sector investment opportunities by de-risking and unlocking land for redevelopment. EDQ has planned and facilitated the delivery of some of the largest residential developments in Queensland, as well as some of the state's most iconic urban renewal projects.
View a map of Economic Development Queensland projects
Carseldine Village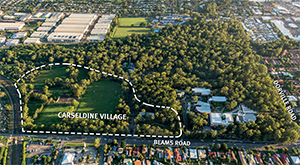 Carseldine Village is an exemplary sustainable development – one of the first residential developments in Queensland to commit to delivering 100% net zero energy emission freehold terrace homes.
Carseldine Village is a 5-star Green Star Communities residential community, setting new sustainability benchmarks by using the latest green energy technology.
Carseldine Village will consist of mixed use, diverse and affordable residential, aged care, small commercial and retail, along with bushland and recreational open space areas.
The masterplan for Carseldine Village is proposed to be developed in 6 stages over the next 3-5 years, subject to market demand.
The current approved master plan provides for a maximum of 606 dwellings.
The Government Office Precinct, C&K Child Care Centre and Carseldine Market will remain.
At Carseldine Village, at least 75 per cent of the bushland is being retained and there is more than 20 hectares of green and open space. Vegetation rehabilitation works have recently commenced to offset removal of vegetation in previous, current and future stages.

The Green is a new $6.5 million sport and recreation precinct that stretches over four hectares and incorporates the latest technology.
Each home will have PV solar, battery storage, air-conditioning systems controlled from smart phones, heat pump hot water systems and garages will include a power outlet ready to accommodate a future electric vehicle charger, saving home owners up to $1600 per year on electricity bills.

Carseldine Village will have, in a future stage, a village retail and commercial heart potentially comprising a convenience supermarket, specialty retail and dining.
The first house and land packages were released in February 2020.
For more information visit the Carseldine Village website.
Gold Coast Health and Knowledge Precinct - Lumina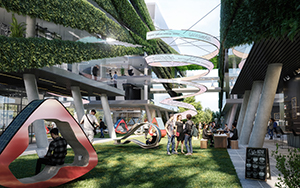 Located within the Gold Coast Health and Knowledge Precinct in Southport, Lumina is a 9.5-hectare commercial cluster dedicated to life sciences, health and technology related businesses.
As landowner, master developer and planning authority, EDQ is facilitating the development of premium development-ready land over the next 10 to 15 years.
Lumina provides for up to 200,000m2 of internal space across 16 development ready sites.
Lot sizes range from 1500m2 to 15,300m2 and can be reconfigured to suit the needs of occupants.
Lumina's focus on life sciences, health and technology-related businesses ensures all businesses and enterprises derive the maximum benefits of co-location with likeminded entrepreneurs and collaborators.
COHORT is one of Queensland's largest startup communities, and the Gold Coast's home for innovation. Now operating in over 3 buildings Cohort is dedicated to contributing to Australia's startup growth by helping existing and aspiring founders with the delivery of several entrepreneurship and business development programs.
Lumina businesses and enterprises will join approximately 30,000 people already working, living and studying across the Precinct, including those at Griffith University, Gold Coast University Hospital, Gold Coast Private Hospital, Southport Sharks, COHORT and residential and retail community, Smith Collective.
Find out about commercial land for sale
Register to receive updates about opportunities at Lumina.
Northshore, Brisbane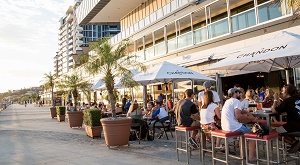 Northshore is transforming 60 hectares of state-owned industrial port land into a vibrant place to eat, play, work, stay and live.
The $5 billion development includes transformation of the waterfront area, reuse of existing buildings,and innovative projects.
Attracting investment and industry to create ongoing jobs.
Located between the city and the air and sea ports.
An area larger than the Brisbane CBD and a river frontage longer than South Bank.
The 304 hectare Northshore Hamilton PDA is Queensland's largest waterfront urban renewal precinct.
The Northshore precinct includes residential and riverside living, commercial office space, a retail and dining precinct, parks and recreation space.
EDQ is reviewing the Northshore Hamilton PDA Development Scheme to ensure it continues to operate effectively. The review is anticipated to be completed in 2022.
Yeerongpilly Green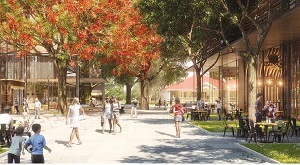 Over the next 10 years, the 14 hectare former Animal Research Institute will be transformed into a charming urban village. It will include residential, retail, commercial and community sites, public spaces, and greater connectivity to public transport.
$850 million project
1200 environmentally sustainable residential apartments
103 room boutique hotel
$30 million State funded community amenities including new parklands, pedestrian-friendly pathways and new roads
EDQ's development partner Consolidated Properties has announced Woolworths as the anchor tenant for the town centre and construction on the retail precinct is now underway.
A $5 million restoration is planned on the heritage-listed Stock Experiment Station main building and stables. The building will be used as a sales and display suite and later converted into a dining and lifestyle hub.
Breakfast Creek Sports Precinct
The Queensland Government is committed to developing a Concept Plan for the Breakfast Creek Sports Precinct in Albion that will deliver a key venue for the Brisbane 2032 Olympic and Paralympic Games and create a sustainable legacy for the community and for the State of Queensland. Find out more at the have your say page.
Yeronga
The Yeronga Priority Development Area (PDA) is approximately three hectares and includes parts of Villa Street and Park Road in Yeronga.
The site is located near an arterial road network, rail and bus services.
The redevelopment of the site is proposed to include the construction of a new community centre for Yeronga. Diverse residential options, small-scale retail and improved active transport in and around the PDA are also proposed.
Residential projects
There are five residential developments by EDQ, helping to make Queensland a great place to live.
Find out about residential land for sale
Industrial projects
We're creating jobs of the future by opening up tens of thousands of hectares of industrial land supply for any-sized operation.
Economic Development Queensland has land for sale across various industrial estates throughout Queensland to suit a cross-section of industries, including manufacturing, transport and logistics, resource processing, energy and renewables, resource recovery, aerospace and defence, ancillary activities and more.
Find out about industrial land for sale
Commercial projects
EDQ works with partners to develop land in mixed use urban renewal precincts, including commercial, education and innovation precincts.
Last updated: 12 May 2023